Ingyenes biztonsági mentés szoftver
FBackup 8.2.216 | 2019-09-05
Download FBackup (Free)
More than 4,000,000 downloads!
FBackup
Az FBackup fájlokat ment. Ingyen!
About FBackup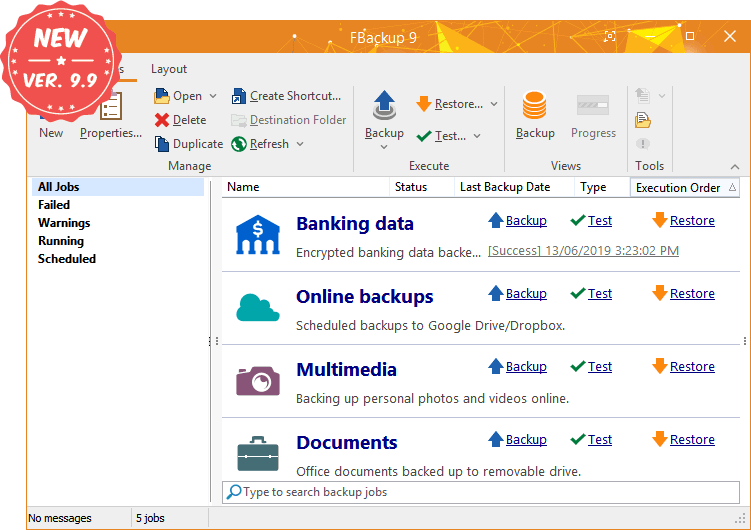 FBackup egyszerű kezelőfelülettel rendelkezik és egy barátságos varázsló támogatásával segít át a mentési feladat meghatározásán a következők kiválasztása során:
Hova lesz tárolva a mentés (cél).
Mit kíván elmenteni (források).
Miként történjen a mentés (teljes mentés formájában fájltömörítéssel vagy tükörképként, tömörítés nélkül).
Mikor kívánja futtatni a mentést (akár kézi akár időzített automatikus futtatás választható).
Miután egy mentési feladat meg van határozva futtatható bármikor kézileg a Mentés (vagy F6) gombbal, vagy automatikusan, ha időzítés volt kiválasztva. FBackup könnyedén képes menteni helyi forrásokból (beleértve USB csatolt meghajtókat) különböző célokba mint USB/Firewire vagy hálózatilag csatolt meghajtókra. Vagy standard zip fájlokat készít (teljes mentés választása esetén), vagy pontos másolatot az eredeti forrásról bármiféle tömörítés nélkül (ha a tükörkép mentés volt kiválasztva).
Read More
Screenshots
Fő jellemzői
What makes FBackup stand from the crowd
Ingyenes úgy magán mint kereskedelmi célra.
FBackup úgy magán mint kereskedelmi célra ingyenesen használható mentési szoftver. Ez költségmegtakarítást jelent mivel szükségtelenné teszi egy második mentési szoftver beszerzését.
Automata mentések.
Meghatároz egy mentési feladatot, beállít egy időzítést, és akár el is felejtheti a mentéseket. FBackup automatikusan indítja a beállított időpontban a mentést, tehát nemcsak az adatok kerülnek biztonságba hanem még értékes idő is takarítható meg közben.
Mentések standard zip tömörítéssel.
Teljes mentés esetén a mentett adatok standard zip tömörítéssel kerülnek tárolásra. FBackup ZIP64 tömörítést használ, ami azt jelenti hogy képes 2GB-nál nagyobb zip fájlok készítésére is. Továbbá, a tömörített adatok jelszóval védhetők amely szükséges a kitömörítéshez.
Testimonials
What our users say about FBackup
I've tried many backup applications over the years. Cobian, Comodo to name a couple. Though those are very good, freeware solutions. I must admit that after trying FBackup, this one is the best I've ever used. It is also very powerful and unique as far as backup software is concerned.
DarrenWalker (Fileforum)
Very useful piece of software for any user. Simple to use and easily backups your files and protects from corruption. I recommend this to anybody looking for a simple and easy to use software for backing up their important files. It's free so it means you don't pay for anything.
Raidenzxz (Download.com)
Have used this software both for back up and more importantly for restore. It worked as advertised. It was simple and worked well. It has saved me now twice when a bad motherboard took out the hard drives in raid mirror setup. I like the better package now due to the greater range of ability.
Breebree (Fileforum)
Easy to use and able to specify just what is to be backed up. I have it set up to do 7 different jobs, Videos, Documents, Music, Desktop, Outlook and Photos. Options of "zip, mirror and full" backup formats provide flexibility when capacity constraints are a factor.
HjHarris (Download.com)
A complete, easy to use, reliable and versatile backup application at last. I was impressed by FBackup after trying (and uninstalling) so many others. FBackup does all the things I want to be done, so it's here to stay. Recommended!
Nicholas (Fileforum)
Amazingly full-featured for a free program. Broad capabilities, including all the 'standard' backup options, but with many more features that the competition holds out for paid upgrades only. It took awhile to find FBackup among all the tools out there, but it was worth the extra searching.
Kfitzharr (Download.com)
Tutorials
Watch videos that show FBackup in action
We're Softland
Learn more about the company that makes FBackup
About Us
Softland is a company founded in 1999, committed to providing quality software by using innovative development solutions. We always put the needs of our customers first and that's why we value our users' feedback.
About Us
Contact Us
Contact us with any questions/suggestions you might have regarding FBackup. If you are experiencing errors with FBackup, we recommend checking first if there isn't already an answer here: FAQ / User Forum
Get in touch
Our Products
The products we develop and maintain target two different fields: file backup (Backup4all and FBackup) and PDF creation (novaPDF and doPDF). Since 2011 we also run Soft112, a software download library.
Products
FBackup in numbers
FBackup is continuously developed since 2006
FBackup
Download & Rate FBackup